Description
What's the new scoop on Green Supremefood®?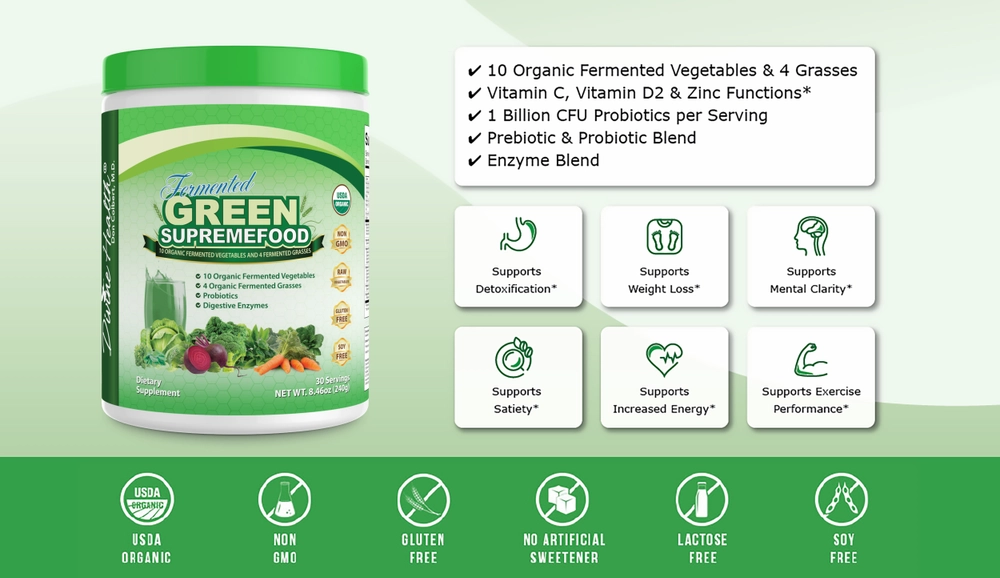 Divine Health's Fermented Green Supremefood® is formulated with the energizing power of 35 nutrient-dense, raw, organically grown, fermented greens, digestive, mineral, probiotic and enzyme blends that provide the benefits of consuming the recommended daily amount of vegetables, without the hassle. This powder supplement is jam packed with nutrients sourced directly from premium superfoods. On top of the greens and botanicals in this blend, you'll get the additional ingredients added that include Vitamin C, Zinc & Vitamin D2 to support a healthy immune system, as well as a digestive enzyme, prebiotic & probiotic blend to support your healthy gut.†
Dr. Don Colbert's Fermented Green Supremefood® is a convenient, delicious way to get the whole food nutrition your body needs in a delicious powder that's simple to enjoy. Simply add one scoop to water or a beverage of your choice and transform your life in just 30 seconds a day. Scoop, stir, sip, enjoy & rejuvenate your body!
The organic fiber found improves satiety and supports healthy glucose levels.
The Organic Green Tea and Digestive Enzymes supply the body with tremendous amounts of natural energy.
Organic antioxidants and probiotics help neutralize harmful free radicals.
Real Testimonials – Real Customers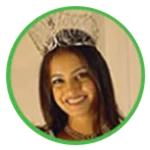 Green Supremefood® has really changed my life. As a mum of two toddlers, I find myself looking for something sugary at midday cause my energy levels are so low. But after I started having my green juice at 3 pm I experience so much energy it's crazy. My skin's looking better. I feel stronger. I love this product. It's the best.
– Simran Mathew | Miss India Asia-Pacific 2004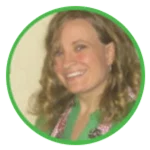 I did notice that it improved my digestion, though, and reduced food cravings. And I was encouraged to think that the supplement may be detoxifying heavy metals, pesticides, and toxins.
– Hillary Kimes Bernstein | Top 100 Health Blogger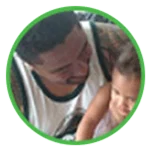 As a former professional rugby player, I have tried many over-the-counter supplements to improve on-field performance. Green Supremefood® is the best in this section of the market, making it the best of the best. Easy to consume and packed with all the best nutrition.
– John Mamea Wilson | Former Rugby Pro | Sports Consultant & Trainer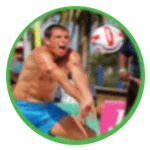 I currently use both Green Supremefood® and Red Supremefood® every day. I really love both products!
– Eric Zaun | Pro Beach Volleyball
Promotes digestion and gut health
Supplies a source of natural energy
Supports weight management
Help boosts the immune system
One of the most basic and fundamental benefits found in fermented foods is that the food is preserved longer than fresh food. Fermenting foods increases the bioavailability of the nutrients in the food. Thus, you derive greater levels of nutrients in an easily digestible form, all the while increasing the number of good bacteria consumed. When foods are going through the fermentation process, the bacteria predigest some of the food, break down cellular walls in vegetables, and make the nutrients and vitamins easy to absorb. This is true of carrots, beets, collard greens, peas, kelp, kale, parsley, broccoli, and spinach as well as other fermented vegetables.
Fermented Foods & Gastrointestinal Health
There's evidence the consumption of foods that have been fermented eases digestion and simultaneously improves absorption. Our bodies are exposed to a multitude of factors that throw off the inner balance of the bacteria in the gut. When this happens, it can affect your ability to absorb foods properly, and it can also lead to illness and the weakening of immune system functioning. Some of the factors that cause bacterial imbalance in the gut include the use of antibiotics, excessive sugar consumption, excessive carbohydrate consumption, too many processed foods in the diet, and psychological stress. Consuming fermented foods helps in restoring the balance of good versus harmful gut bacteria. A number of health conditions are linked to an imbalance of gut bacteria, including conditions like asthma, Irritable Bowel Syndrome, constipation, Candidiasis (area and systemic yeast infections), and gluten and lactose intolerance.
How Green Supremefood is Made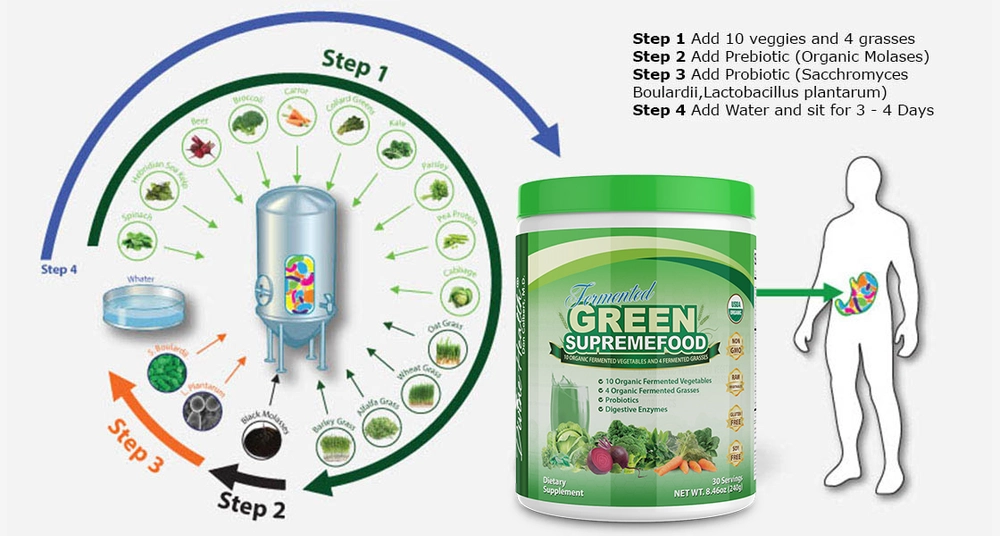 The Health Benefits of Fermented Vegetables
When you ferment vegetables, you are able to easily digest and absorb vitamins, minerals, phytonutrients, antioxidants, and enzymes in the food. For instance, when fermenting beets, you increase the nutrient density in beets especially Vitamin C. Pickled beets are also an outstanding source of magnesium, Vitamin A, Potassium, fiber, and low in fat. Meanwhile, carrots have no saturated fat, no cholesterol, and offers 60 percent the daily allowance of vitamin A after fermentation. The vegetable is rich in carotenoids, as is parsley, with the latter having two times the carotenoids that carrots contain.
Another vegetable rich in carotenoids is broccoli. Carotenoids are antioxidant-rich phytochemicals; some research suggests that carotenoids may even offer some protection against macular degeneration. According to the United States Department of Agriculture, spinach has similar benefits; it is another fermentable vegetable featuring carotenoids as well as the flavones Apigenin and Luteolin. Apigenin is a natural immune booster, while Luteolin also has immune-boosting properties, anti-inflammatory properties, and anti-viral effects.
Essentially, the health benefits of fermented vegetables are well documented. Looking at the benefits of consuming fermented vegetables reveals that fermented selections are a healthier alternative. Bear in mind the decision to eat fermented or regular foods shouldn't be an all or nothing choice.
WARNING: This product can expose you to chemicals including Arsenic, Cadmium and Lead, which are known to the State of California to cause cancer and birth defects or other reproductive harm. For more information go to www.P65Warnings.ca.gov.