Description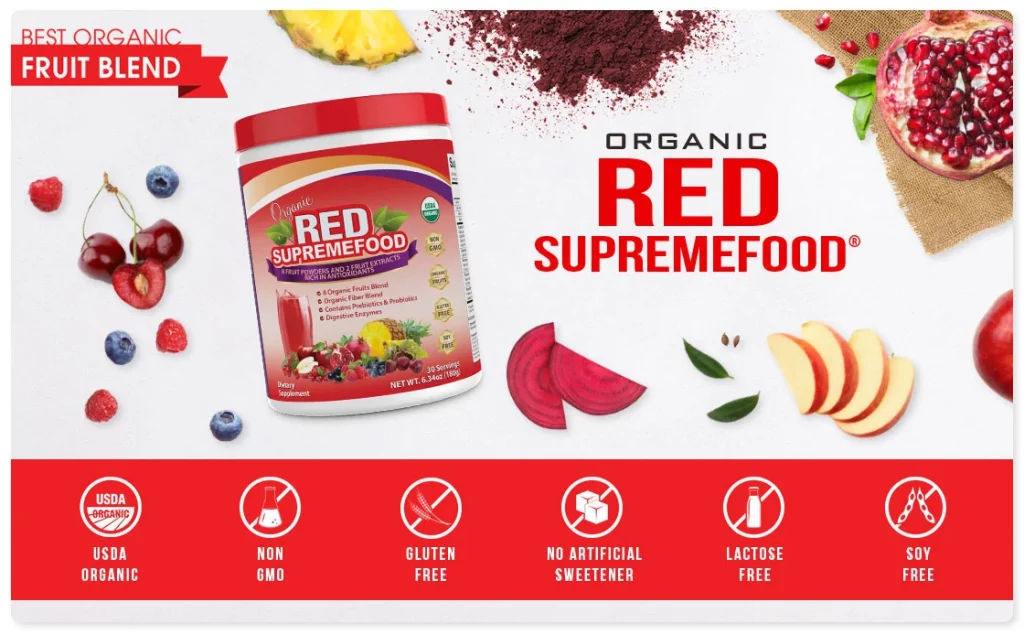 Red Supremefood® is a delicious berry flavored dietary supplement that contains 12 Nutrient Dense Ingredients featuring 9 USDA Organic fruits including; Acai, Pineapple, Pomegranate, Cranberry, Blueberry, Acerola Cherry, Raspberry, Beet, and Apple. The supplement is USDA organic, dairy-free, soy-free, gluten-free, and non-GMO. Red Supremefood® also contains an organic fiber blend consisting of flaxseed and gum acacia. The prebiotics and probiotics blend in the product includes L. rhamnosus, L. casei, B. longum, and L. acidopilus. The supplement has an enzyme blend consisting of lipase, lactase, cellulase, Bromelain, Amylase, and Protease. Finally, the supplement has an organic botanical blend consisting of apple, and green tea leaf extract. The organic supplement is sweetened with organic Stevia®.
Each scoop contains the antioxidant equivalency of four servings of organic fruit.
The berries contain powerful proanthocyanidins, which are found to support healthy memory.
The production of nitric oxide and organic pectin supports healthy skin and helps prevent acne.
Simply add one scoop of Red Supremefood® to 4 to 8 ounces of water to gain all the benefits the product supplies. Just one serving of Red Supremefood® a day gives you the amount of antioxidants you would get after consuming four servings of fruit!
Nitrates
Supports blood flow
Antioxidants
Promotes heart health
Brain Health
Supports healthy memory
Skin
Promotes healthy skin
Antioxidant capacity is measured in ORAC units or Oxygen Radical Absorbance Capacity. Red Supremefood™ contains 800 ORACs! Thus, Red Supremefood™ is an ideal supplement if you are looking for a product that will support vitality, rejuvenation, and optimal well-being. Combine this product with Green Supremefood™ for a complete and healthy supplement regimen.
Disclaimers
*These statements have not been evaluated by the Food and Drug Administration. These products are not intended to diagnose, treat, cure or prevent any disease. Consult your physician before using any supplement.