Description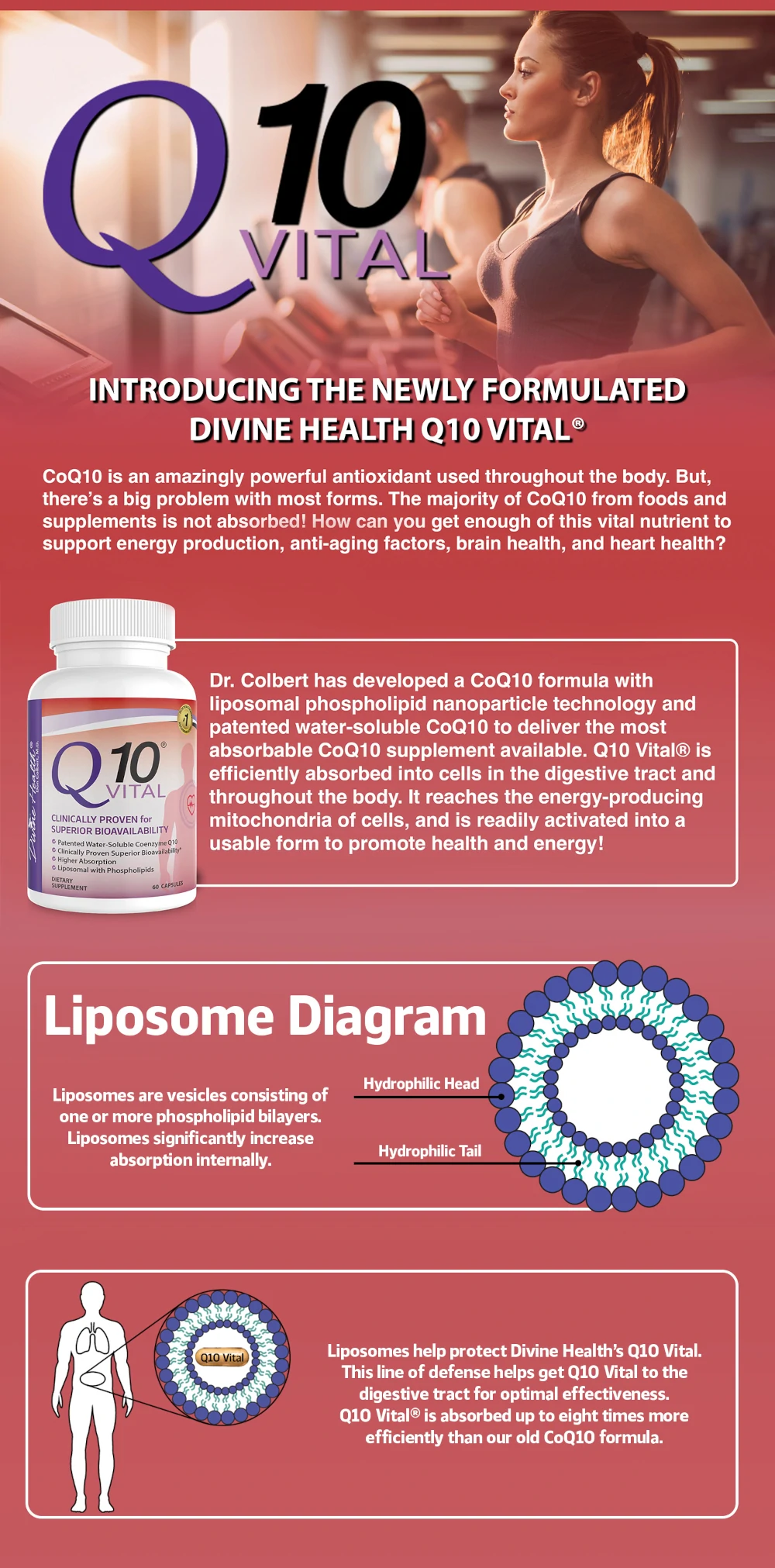 Coenzyme Q10 (CoQ10)
Q10 Vital® contains coenzyme Q10 (CoQ10), a nutrient and potent antioxidant crucial for providing energy to all cells. It's found naturally in the mitochondria of every human cell. The mitochondria are the energy producers in cells, and rely heavily on CoQ10. The combination of CoQ10 with riboflavin and thiamine helps power the biggest organs—like the heart, liver, kidneys, and muscles—while supporting the immune system, energy levels, stamina, and much more.
Easy Absorption
CoQ10 is one of the most potent antioxidants found in the human body. When CoQ10 is properly absorbed and activated, it has significant effects on energy, the immune system, and levels of oxidative stress in the body. It combats free radicals that damage cells. Inversely, there are many degenerative states and ailments associated with cellular deficiencies in CoQ10. Q10 Vital® is highly absorbable because it's formulated with natural liposomal phospholipids from sunflower lecithin. This means it is absorbed through water-soluble and fat-soluble layers of cellular structures. Q10 Vital® is absorbed up to eight times more efficiently than CoQ10 without liposomal phospholipids.
Anti-Aging
As we age, our bodies become less effective at converting CoQ10 from ubiquinone to ubiquinol. What's more, we synthesize less of it in our own cells. Thankfully, Q10 Vital® is readily converted to ubiquinol, the active form that is used by cells. Not only does it deliver needed amounts of CoQ10 as we age, it fights age-related cellular damage and degeneration. Energizing Symbiotic Vitamins: Along with CoQ10, Q10 Vital® is formulated with two energizing B-vitamins, riboflavin and thiamine. These B-vitamins support metabolism, breakdown of nutrients, and energy production in the cells. Together CoQ10, Riboflavin, and thiamine encourage whole-body health, energy, and vitality. Q10 Vital® is dairy-free, gluten-free, egg-free, soy-free, nut-free, vegan, GMP-certified and contains no preservatives.
Try it for yourself, and experience the benefits of Q10 Vital®
If you're looking for a highly absorbable, potent and effective CoQ10, you've found it in Divine Health's Q10 Vital®. Dr. Colbert has formulated this gold-standard supplement to deliver key energizing and health-promoting nutrients in utilizing patented technology.