Description

Dr. Colbert's Superfood® Package contains one (1) Apple-Cinnamon Flavored Fermented Green Supremefood® and one (1) Mixed Berry Flavored Organic Red Supremefood®. Divine Health's Supremefood® is a USDA organic drink powder manufactured by Divine Health and doctor-formulated by New York Times Bestselling Author Dr. Don Colbert. Divine Health's Green and Red Supremefood® are superior in nature due to the process that breaks apart the fruit, vegetables and grasses making the vitamins and antioxidants easily digested and absorbed. The prebiotics and probiotics blend in the product includes L. rhamnosus, L. casei, B. longum, and L. acidopilus. Experience the benefits of Organic & Fermented Nutrition by trying Dr. Colbert's Superfood package. The supplement is USDA organic, dairy free, soy free, gluten free, and non-GMO and sweetened with organic stevia.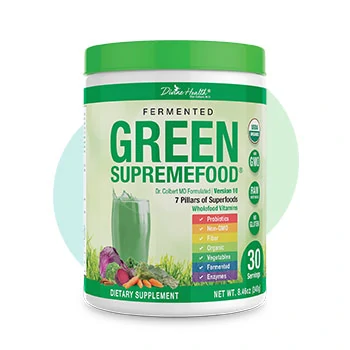 Fermented Green Supremefood®
Fermented Green Supremefood® is an Apple Cinnamon flavored dietary supplement featuring a blend of USDA ten organic vegetables and four grasses (Carrot, Beet, Parsley, Spinach, Broccoli, Kale, Cabbage, Onion, Pea Protein, VitaKelp, Spirulina, Chlorella, Barley, Alfafa Grass, Wheatgrass and Oat Grass)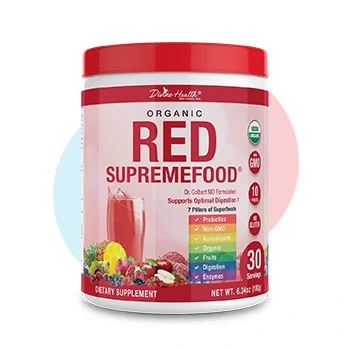 Organic Red Supremefood®
Red Supremefood® is a delicious berry flavored dietary supplement featuring nine USDA organic fruits, including Acai, Pineapple, Pomegranate, Cranberry, Blueberry, Acerola Cherry, Raspberry, Beet, and Apple.