Description
WHY A PERFORMANCE PROTEIN BAR?
The Callie Protein Bar was inspired by world-class pickleball champ, Callie Jo Smith, who insists on perfect nutrition, immediate energy and incredible taste. After using these bars during practice and competition events Callie said, "I have used dozens of protein bars and most of them had unhealthy ingredients. The rest tasted gritty or bland. I worked with Optivida nutritionists to create a winning recipe that satisfies taste and refuels my body. The biggest game changer was from the Velositol technology. It doubles the muscles-building ability of every gram of protein in the bar. No one else is doing that. These are the best protein bars I have ever had. I love them."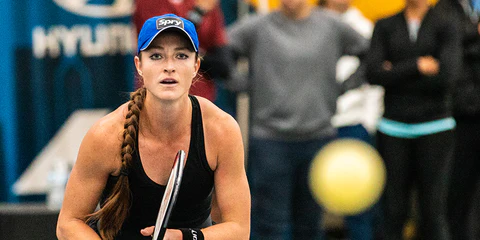 CLEAN PROTEIN POWER:
Most protein bars are made from low quality protein and sugar-sweetened ingredients. They are basically candy bars with extra protein. So Optivida invented the Callie Bar. It uses a high quality, patented protein so your body can quickly begin muscle recovery and rebuilding. The supporting ingredients are clean, whole-food almonds, honey, chocolate, cocoa butter, oats and coconut. You won't experience a sugar crash or a reaction to synthetic, processed ingredients.
BOOSTED PLANT PROTEIN:
Callie Protein Bars are powered by plant-based protein, ensuring that you won't have allergic reactions to whey or other additives. Unlike other sources of protein, rice and pea protein give your body 100% of the amino acids needed to create strength-building protein. Optivida's patented protein booster, Velositol, doubles the effectiveness each gram of protein. Enjoying a Callie Bar will fill you with 22 effective grams of protein. 
INCREDIBLE TASTE:
What value is a healthy protein bar if you have to gag to eat it? Using advice of commercial chefs, Optivida's recipe uses creamy cocoa butter and honey to bring together the crunchy goodness of almonds, coconut, chocolate chips, and oats. Even for candy junkies, this bar is incredibly tasty. 
The Remarkable Effect of Velositol on the Body – Increases the Creation of Muscle Tissue