Description
YOU ASKED. THEY DELIVERED.
Nano-SilverSol® Toothpaste is Officially BACK
Up To 12 Hours of Protection
Silver naturally protects your teeth
Fluoride-Free
A toxin that your body doesn't need
Winter Mint
With Xylitol & Essential Oils
Patented Silver
Natural antimicrobial
Glycerin
Prevents bacteria regrowth
Baking Soda
natural teeth whitener (4)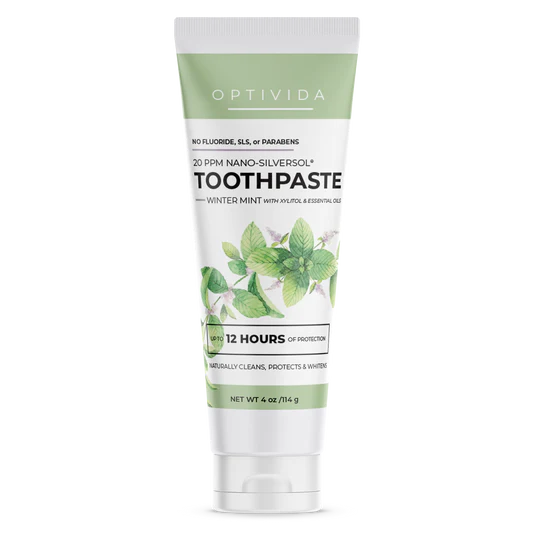 Coral Calcium
Helps clean, whiten, & re-mineralize your teeth
Xylitol
Slows tooth decay
Coconut Oil
Attacks harmful bacteria (5)
Patented Silver Solution
Patented. Proven. Powerful.
Nano-SilverSol®
Optivida's patented solution specifically formulated to naturally promote healthy teeth, gums, and overall oral health.
Silver has been used for hundreds of years as a way to maintain health and fight infection.
Nano Silver is safer and more effective than colloidal silvers
The History: Silver has been used for hundreds of years as a way to maintain health and fight infection. Optivida Health discovered a more efficient and effective way to design and engineer silver. This new technology makes it safe, fast, and effective to use everyday.*
Nano-SilverSol: Using science and technology the molecular structure of Optivida Health's silver has been improved to ensure that it is safe and effective. It safely targets and kills harmful pathogens in the body. It doesn't build up in the body and safely exists after 24 hours. You'll be happy to know that this nano-silver has almost nothing in common with colloidal silver except the word silver.
Colloidal Silver: In 1999 the FDA warned against the use of colloidal silver because it isn't safe or effective. Many colloidal silver companies make fictitious claims about benefits and cures that aren't backed by science. Although rare, an excess of colloidal silver can build up in the body causing Argyria. Argyria is a skin condition that can turn the skin, internal organs, nails, and gums a blue-gray color.