Description
THE SECRET TO AN EFFECTIVE VITAMIN D
DID YOU KNOW THAT 50% OF AMERICANS ARE VITAMIN D DEFICIENT?**
From November to February those who live above the 35th parallel in the United States don't receive any vitamin D from the sun causing a deficiency.[9] Our diet also contributes to vitamin D deficiency, providing only a fraction of our daily requirements.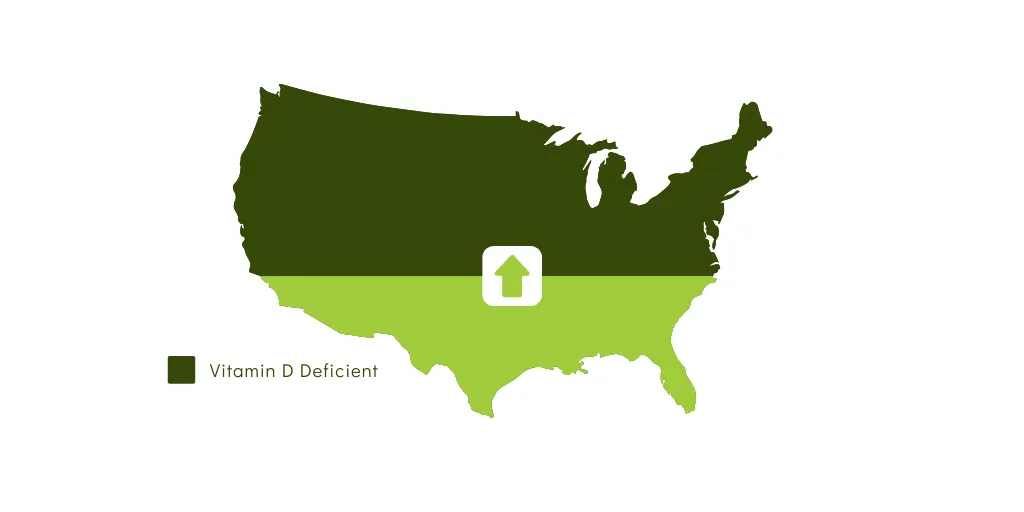 WHY DOES YOUR BODY NEED VITAMIN D?
Immune Support
Low levels of Vitamin D have been linked to frequent infections and the worsening of autoimmune diseases. Studies have shown that taking a vitamin D supplement is a safe way to protect against respiratory infections.*[7,8]
Accessing Energy
Optivida Health's Vitamin D contains many digestive enzymes that help with the digestion of food. These enzymes help break down the food you eat to release the energy. Without all of the proper enzymes your digestion is incomplete.*
Strength and Muscle Growth
Studies show a link between Vitamin D deficiency and muscle weakness. It is also linked to muscle growth and recovery. Vitamin D receptors are found in almost all tissues of the body. Vitamin D works in some of those tissues as a regulator of muscle growth. Vitamin D supplements may improve muscle strength by increasing the size and amount of type II (fast twitch) muscle fibers. Studies show that vitamin D may serve a vital role in muscle growth, athletic performance and injury prevention.*[4,5]
Emotional Well-Being
Studies have shown a link between Vitamin D deficiency and depression, anxiety, and overall cognitive function. Vitamin D has been particularly effective in the treatment of seasonal affective disorder (seasonal depression).*[6]
The National Institute of Health says that in addition vitamin D supports "modulation of cell growth, neuromuscular function, and reduction of inflammation."[1,2,3]
More than just Vitamin D
Contains additional nutrients that naturally occur in mushrooms
Phystosterols, Beta Glucans, Flavonoids, and Antioxidants

linked to immune, heart, and cholesterol health*

All of the B and C Vitamins
Calcium, Copper, Iron, Iodine, Potassium, Magnesium,
Manganese, Selenium, and Zinc
Conjugated Linoleic Acid
OPTIVIDA HEALTH'S VITAMIN D SUPPLEMENT
Potent
Optivida Health's Vitamin D is made from our specially-grown white button mushrooms. Your body will naturally digest and use mushroom better than other vitamin D products made from questionable compounds.
Bioavailable
To increase the amount that of vitamin D that is absorbed into the body we combined the vitamin D from the pure white button mushrooms with magnesium. Magnesium is known to boost the absorption of vitamin D into the body. Magnesium acts as a hostess that guides the vitamin D into the bloodstream where it can effectively go to work.
Natural
Plant-Based
Vegan
Dairy-Free
Gluten-Free
Made in the USA
Disclaimers
*These statements have not been evaluated by the Food and Drug Administration. These products are not intended to diagnose, treat, cure or prevent any disease. Consult your physician before using any supplement.
**Rathish Nair, A., 2012. Vitamin D: The "Sunshine" Vitamin. [online] PubMed Central (PMC). Available at: https://www.ncbi.nlm.nih.gov/pmc/articles/PMC3356951/#ref1.
References
Institute of Medicine, Food and Nutrition Board. Dietary Reference Intakes for Calcium and Vitamin D. Washington, DC: National Academy Press, 2010.
Holick MF. Vitamin D. In: Shils ME, Shike M, Ross AC, Caballero B, Cousins RJ, eds. Modern Nutrition in Health and Disease, 10th ed. Philadelphia: Lippincott Williams & Wilkins, 2006.
Norman AW, Henry HH. Vitamin D. In: Bowman BA, Russell RM, eds. Present Knowledge in Nutrition, 9th ed. Washington DC: ILSI Press, 2006.
Ceglia L., Harris S.S. Vitamin D and its role in skeletal muscle. Calcif. Tissue Int. 2013;92:151–162. doi: 10.1007/s00223-012-9645-y.
Cannell J.J., Hollis B.W., Sorenson M.B., Taft T.N., Anderson J.J.B. Athletic performance and vitamin D. Med. Sci. Sport Exerc. 2009;41:1102–1110.
Penckofer, Sue, et al. "Vitamin D and Depression: Where Is All the Sunshine?" Issues in Mental Health Nursing, U.S. National Library of Medicine, June 2010, www.ncbi.nlm.nih.gov/pmc/articles/PMC2908269/
Martineau AR, Jolliffe DA, Hooper RL, et al. Vitamin D supplementation to prevent acute respiratory tract infections: systematic review and meta-analysis of individual participant data. BMJ. 2017­;356:i6583
Szodoray P, Nakken B., Gaal J, et al. The complex role of vitamin D in autoimmune diseases. Scand J Immunol. 2008 Sep;68(3):261-9. doi: 10.1111/j.1365-3083.2008.02127.x. Epub 2008 May 29. https://www.ncbi.nlm.nih.gov/pubmed/18510590. Accessed September 20, 2019.
Webb, A. R., Kline, L., & Holick, M. F. (1988). Influence of season and latitude on the cutaneous synthesis of vitamin D3: Exposure to winter sunlight in Boston and Edmonton will not promote vitamin D3 synthesis in human skin. Journal of Clinical Endocrine and Metabolism, 67(2), 373-378.