Description
Key Ingredients
This formula is a nutritional powerhouse, packed with the benefits of an ancient superfood

Chicken Bone Broth Protein Concentrate
Our sustainably sourced chicken bone broth concentrate comes from non-GMO, U.S.-farmed chickens. It provides collagen type II, which supports a healthy gut, healthy skin and joint health.*

Amino Acids
Amino acids are the building blocks of protein; getting enough essential amino acids in your diet is critical to maintaining optimal health. You'll get 18 amino acids in every serving of Bone Broth Protein. There are 20 amino acids in total, which each play a specific role in the body. Amino acids are involved in almost every biological process and aid in hormone production, immune system function, muscle growth, energy production and more.

Joint-Friendly Compounds
Bone Broth Protein contains collagen type II (the type of collagen found in your gut lining, joints and cartilage) as well as compounds like glucosamine, chondroitin and hyaluronic acid. Those compounds help your joints move and feel better, with less discomfort and increased mobility.
Highlights
20g protein, 2g carbs
Supports joint health and reduces joint discomfort*
Supports a healthy inflammation response*
Supports a healthy immune system*
Supports gut health & a healthy gut microbiome*
Supports healthy skin*
Features collagen type II, glucosamine, chondroitin, hyaluronic acid and 18 amino acids
3x more potent than homemade broth and twice as potent compared to the leading bone broth brands (based on protein content)
5x more potent than leading brands on micronutrients and macronutrients
Suggested Usage
Add one scoop with 12 ounces of warm water
Try adding it into soups, stews, sauces or broths
Mix with warm water, salt and pepper for a warm homemade sipping broth
Product Facts
Form: Powder
Select variation combination above to see more details below those options
Dietary Restrictions
Paleo
Keto
Gluten Free
Dairy Free
Nut Free
Soy Free
Raised Without Hormones
Raised Without Antibiotics
Pasture Raised
Non-GMO Tested
Patented Formula
BPA Free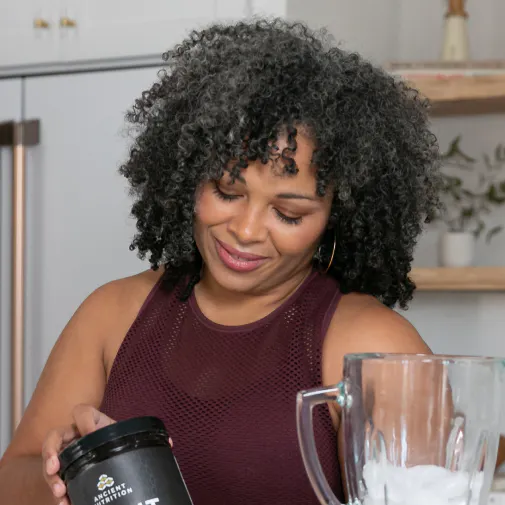 Good Health Begins with Broth
There's a reason every culture in the world uses some form of bone broth. We know bone broth is a nutrient-packed powerhouse, but the reality is, it's time-consuming and messy to make… Which is why most of us don't get any in our everyday diet. Bone Broth Protein is designed to support key pillars of your health, in a way that works for your lifestyle. It's fast, easy and super-versatile. Try sweet flavors in your morning smoothie, or add savory flavors to warm water, salt and pepper for a homemade sipping broth.
Frequently Asked Questions
---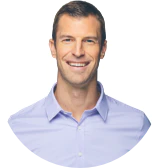 Dr. Axe Answers
Ancient Nutrition co-founder, chiropractor, clinical nutritionist and certified doctor of natural medicine is here to answer your questions!
What does this taste like?
Bone Broth Protein Pure and Turmeric are savory, chicken-broth-inspired flavors. We like adding those to soups, stews or sauces; they're also delicious mixed with spices, salt and pepper, and warm water for a homemade sipping broth. Our Bone Broth Protein Vanilla and Chocolate are lightly sweetened with stevia leaf extract and luo han guo fruit extract, natural vanilla flavor, natural chocolate flavor with other flavor, and organic cocoa powder for a deliciously sweet flavor. Try it in smoothies, pancakes or your favorite baked recipes.
Who is this product intended for?
This bone broth powder is designed for anyone looking for a convenient way to get the benefits of traditional bone broth without spending hours in the kitchen. It's an easy, versatile way to get the benefits of an ancient superfood — which many of us are lacking in our modern diets — and it's 3x more potent than homemade broth when it comes to protein content. Today's diet is often missing important nutrients and beneficial compounds that our ancestors enjoyed, including collagen, known as the "glue that holds us together." Bone Broth Protein is also an easy way to get those nutrients.
How should I use this?
The choice is yours! We like to make a warm homemade sipping broth by mixing Bone Broth Protein Pure with spices, salt and pepper, and warm water. It also delivers a nutrient-packed boost when mixed into soups, stews or sauces. If you have more of a sweet tooth, try adding Vanilla or Chocolate flavor to a smoothie for extra protein or mixing it into your morning cup of coffee. It's also great with almond, cashew or coconut milk and can be enjoyed warm or over ice. Try using a frother when mixing bone broth protein into water or coffee to get the smoothest blend of powder and liquid. Looking for more inspiration? We've got you covered. Check out more Bone Broth Protein recipes at
Is this product Paleo?
Yes, Bone Broth Protein is Paleo-Friendly as well as dairy free, grain free, gluten free, nut free and soy free.
How is this different from your Bone Broth Collagen supplement?
Bone Broth Protein contains chicken bone broth protein concentrate with naturally occurring type II collagen. Bone Broth Collagen includes collagen from chicken, beef and turkey. While both products provide a great protein boost, Bone Broth Protein has 20g of protein and Bone Broth Collagen has 14g of protein per serving.
What's the difference between chicken- and beef-based Bone Broth Protein?
Both chicken-based and beef-based Bone Broth Protein provide an easy, versatile way to get all the benefits of an ancient superfood. Chicken Bone Broth Protein (Vanilla, Chocolate, Pure and Turmeric flavors) feature type II collagen which inherently includes chondroitin, glucosamine and hyaluronic acid. Plus, it has 18 amino acids. It supports healthy joints, reduces joint discomfort, supports gut health and healthy skin*, and more. Beef Bone Broth Protein (Salted Caramel and Pumpkin Spice flavors) support joint health, healthy skin, a healthy gut and healthy nails.* It includes collagen types I and III.
Disclaimers
*These statements have not been evaluated by the Food and Drug Administration. These products are not intended to diagnose, treat, cure or prevent any disease. Consult your physician before using any supplement.