Description
HOW DIGESTIVE ENZYMES BOOST IMMUNITY
You may need this product if:
You have poor eating habits
You have chronic inflammation
You have food allergies or food sensitivities
You want excellent digestive health
You expect more energy from your food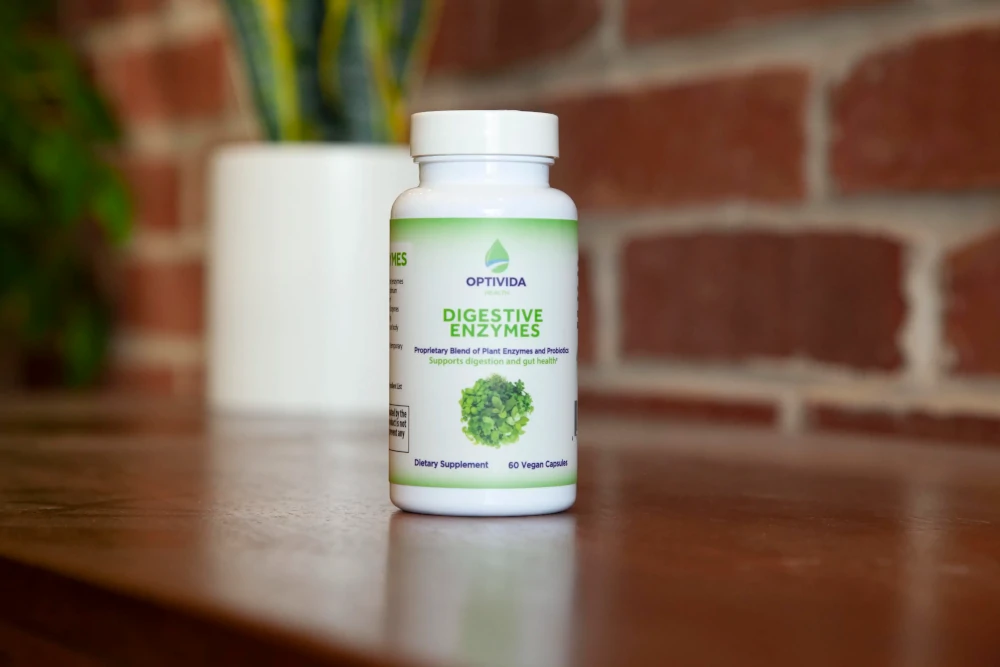 Why does your body need digestive enzymes?
?
Did you know that 70% of the American's have some sort of digestive problems. This is because the American diet is highly processed and most people don't eat raw fruits and vegetables.
Non-Synthetic
Dairy-Free
Gluten-Free
Vegan Friendly
Enzymes can be damaged and destroyed by:
---
If you don't get enough enzymes you may experience:
Bloating, Diarrhea, & Discomfort
Suppressed Immune Function
Optivida Health's Digestive Enzymes
Optivida's full spectrum plant enzyme blend of 21 different enzymes was specifically formulated to ensure optimum digestion, increase nutrient absorption and help decrease the body's response to many food allergens, including gluten and casein.*
Unlike animal-derived enzymes, Optivida's vegan plant enzymes are robust enough to work flawlessly in the chemically-hostile digestive system.*
If you have a food allergy, this supplement may help your body digest milk or gluten.*
---
Optivida uses enzymes from papayas
Papaya is an excellent source of a vital enzyme called papain. This enzyme breaks down proteins, releasing amino acids, which are critical building blocks for the body.
Plant-based enzymes are nearly 5,000 percent more effective than animal-based enzymes.[1]
Disclaimers
*These statements have not been evaluated by the Food and Drug Administration. These products are not intended to diagnose, treat, cure or prevent any disease. Consult your physician before using any supplement.
**If you are lactose or milk intolerant, it may be caused by your body not creating adequate amounts of lactase. This can affect the way your body digests lactose.
STORE TIGHTLY IN A COOL, DRY PLACE. KEEP OUT OF REACH OF CHILDREN.
Contains no added yeast, wheat, corn, milk, egg, soy, sugar, artificial color, or preservatives.
References