Description
Dr. Don Colbert M.D. 21 Day Detox & Nutritional System
Are you ready to jump-start your health and support your immune system with Dr. Colbert's 21 Day Detox & Fast Nutritional System?
Of course, you are! Who wouldn't want to support the health of their cells, immune responses, and metabolism, while increasing energy, burning fat, and detoxifying their body? However, you may not know the exact products and foods that enable detox, or how to easily incorporate them each day. This is precisely why Divine Health has created the Dr. Colbert's 21 Day Detox & Fast Nutritional System with 3 amazing detoxifying nutritional products.
With this system, you'll get 3 real-food-based products that promote cellular and whole-body detoxification through vital nutrients, fasting and cleansing. After just 21 days, you'll establish the habits of using these products each day to make eating and fasting a lifestyle.
Here's what is in the system, and how each nutritional product promotes liver health, immune health and detoxification: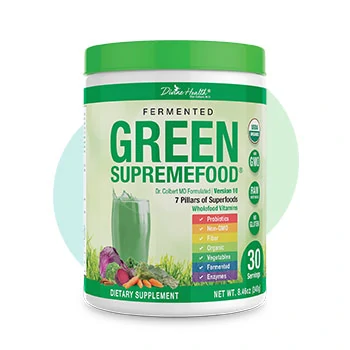 Fermented Green Supremefood®
First, you can enjoy daily doses of Divine Health's Fermented Green Supremefood®
to detoxify your cells. It is an Apple Cinnamon flavored dietary supplement featuring a blend of 10 USDA Organic vegetables and 4 grasses (Carrot, Beet, Parsley, Spinach, Broccoli, Kale, Cabbage, Onion, Pea Protein, VitaKelp, Spirulina, Chlorella, Barley, Alfafa Grass, Wheatgrass and Oat Grass). Every single ingredient has been chosen with a detoxification purpose. Fermentation goes on to provide more detox and health benefits by changing the food itself. It reduces the sugar content of foods while increasing bioavailability of nutrients, becomes a source of good bacteria when consumed, naturally preserves the food, and improves the quality of nutrients including proteins, fibers, chlorophyll, and more.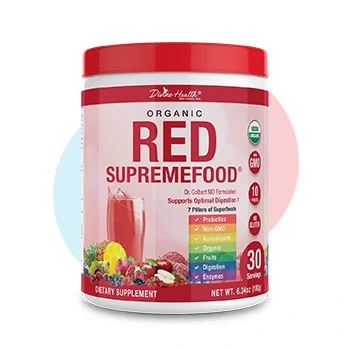 Organic Red Supremefood®
Add daily doses of Red Supremefood® for even more powerful detoxifying nutrition. It is our acclaimed fruit dietary supplement powder made with 9 USDA Organic fruits, including Acai, Pineapple, Pomegranate, Cranberry, Blueberry, Acerola Cherry, Raspberry, Beet, and Apple. The more vibrantly colored a fruit or vegetable, the more dense and potent its antioxidants. Beets, berries, cherries, and pomegranates are no exception. Their nutrients specifically support brain health, eye health, cellular detox, immune function, and liver health, while fighting harmful free radicals throughout the body. Along with Green Supremefood, they encourage an alkaline environment, which enables detoxification in the body. Together, they are a powerful health and detox triple-threat that supports liver health, immune function, and cellular detoxification.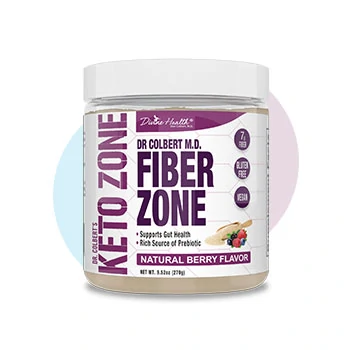 Divine Health's Fiber Zone
Add Keto Zone's Fiber Zone every day for more immune support and detoxification benefits. Fiber Zone is a proprietary powder fiber blend of 2 effective, specific fibers: Inulin and Psyllium Husk. The combination of Inulin and Psyllium Husk provides soluble and insoluble fibers. Soluble fiber is important to detoxification as it swells and acts as a sponge and binds toxins, cholesterol, and more from the body. The fibers in Keto Zone's Fiber Zone also act as prebiotics for the probiotics in the Fermented Green Supremefood. This sets the 21-Day Detox System apart; its products contain very specific ingredients that work synergistically for detoxification and whole-body health. In fact, together Inulin and Psyllium Husk promote health by also supporting weight control and hunger levels, blood sugars, triglycerides and cholesterol, bone health, and blood pressure health.
What a powerful system for detoxification and immune support!
The 3 amazing products in the 21 Day Detox & Fast Nutritional Kit work together to support the health of your cells, immune system, mind, and body. In 21 days, you can feel lighter, energized, more resilient, and mentally clearer. Take the challenge and detox your body with fasting and amazing nutrients. Make detoxification and great health your new lifestyle! Dr. Colbert MD 21 Day Detox & Fast Nutritional Kit is the best cleanse system for detoxifying the body and supporting whole-body health. The 21 Day Detox & Fast Nutritional System includes our 3 top detox products that support cellular detoxification, immune health, and good liver function with high-energy nutrients. Detoxification and fasting encourage the omission of ultra-processed, sugary, high-carbohydrate, anti-nutrient, and harmful foods (fasting) while including potent high-antioxidant, anti-inflammatory, and detoxification foods & nutrients (detoxification).
This product is formulated to work in conjunction with Dr. Colbert's Liver Detox